News
The 2014 Golden Helix Summer School was successfully organized in Aegina island, Greece, September 11-15, 2014. The meeting was attended by more than 100 participants and speakers from 21 countries worldwide, including Brazil, Japan, Saudi Arabia, South Africa and others. This event was co-organized by the Genomic Medicine Alliance and the Golden Helix Foundation and was the first of a series of similar educational events that will be organized in the future.
The participants enjoyed an intense scientific program on Phamacogenomics and Genomic Medicine and a social program that included a visit to the AFEA archaeological site (temple and museum), and a traditional BBQ and farewell party.
Please visit the 2014 Golden Helix Summer School website to access the photo gallery and downloads.
The Scientific Advisory Committee decided to add a new Working Group on Rare Diseases and Drug Outcomes to the activities of the Genomic Medicine Alliance. This working group will aim to establish collaborative projects among Genomic Medicine Alliance members to elicudate the genetic basis of rare genetic diseases. Also, in conjunction to the Pharmacogenomics Working Group activities, this new Working Group aspires to engage into collaborative projects to delineate genomic variants with rare drug outcomes.
Activities of this new Working Group will be coordinated by Professor Domenica Taruscio (Rome, Italy), who will also participate in the Scientific Advisory Committee of the Genomic Medicine Alliance.
Today, the DruGeVar database, an online database triangulating drugs with genes and pharmacogenomics biomarkers, was officially launched. This database is the joint product of the Pharmacogenomics and Genome Informatics Working Groups and derived from the need to build a comprehensive database that could serve clinical pharmacogenomics. A user-friendly data querying and visualization interface allows users to formulate simple and complex queries.
To access the DruGeVar database content, pelase click here.
On January 8-9, 2014, the Global Leaders in Genomic Medicine meeting was held at the National Academy of Sciences Building in Washington, D.C., sponsored by the National Human Genome Research Institute (NHGRI), and co-chaired by Geoffrey Ginsburg and Teri Manolio.
The goals of the meeting were to: (a) Identify areas of active translational and implementation research, potential common strategies, and opportunities for collaborative efforts, (b) Identify common barriers to implementation of genomics in healthcare and a policy agenda relevant to advances in the field, (c) Identify nations with unique capabilities (such as national healthcare systems) that may allow rapid implementation and measures of key outcomes, and (d) Discuss opportunities (such as national healthcare system) that may allow rapid implementation and measures of key outcomes.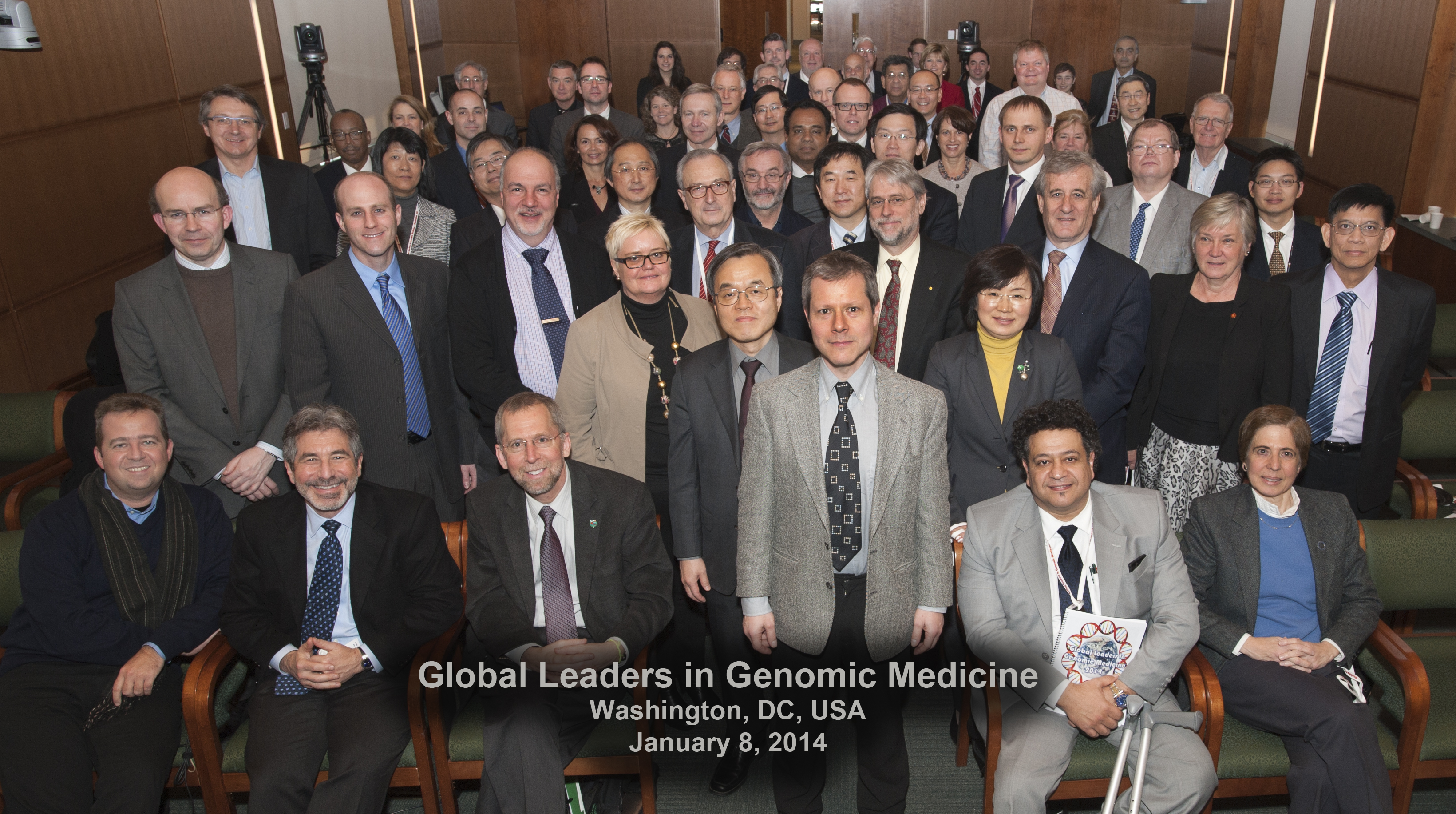 Commemorative picture of the participants of the Global Leaders in Genomic Medicine meeting (Courtesy of Dr. Teri Manolio). Professors Al-Mulla and Patrinos are in the front row, together with Dr. Geoff Ginsburg (Duke University), Dr. Eric Green (Director; National Human Genome Research Institute), and Dr. Teri Manolio (Director; Genomic Medicine Division, National Human Genome Research Institute).
In this meeting, the Genomic Medicine Alliance Scientific Advisory Committee members, Professors Fahd al-Mulla (Safat. Kuwait) and George P. Patrinos (Patras, Greece), have presented the Genomic Medicine Alliance concept, which was very well received by the attendees.
Please click here to view the meeting slides and videos.
The Bioethics & Society programme is offered as a 1-year full time / 2-year part-timeMaster in Bioethics & Society (180 credits), a 1-year PG Diploma in Bioethics & Society (120 credits, coursework only), or a 6-month PG Certificate in Bioethics & Society (60 credits, selected coursework).
Advances in biomedicine and neuroscience raise some of the most difficult ethical and societal questions of our time. T

he

 Bioethics & Society Programme

 

facilitates close study of these questions, drawing on

 

concepts, theories and methods from philosophy and the social sciences. Students are inspired to understand how bioethics influences the world, and they are enabled to contribute solutions to bioethical problems.
What is unique about this programme?
· Taught in the heart of London, with immediate access to King's hospitals and laboratories, and close to government, health policy think-tanks, patient advocacy groups, medical and scientific societies, and the private health sector
· Offers a unique 'real-world' approach to bioethics, allowing students to understand the social and political contexts in which bioethical controversies arise and proposed solutions are developed
· Equips students with essential knowledge and skills to make a contribution to resolving bioethical problems
· Offers rigorous training in quantitative and qualitative research methods and empirical ethics
Lectures and seminars are taught by internationally recognized faculty who consult with the World Health Organization, the Nuffield Council on Bioethics, and the UK Parliamentary Office of Science & Technology, among others.
At SSHM we are committed to a thoroughly interdisciplinary approach to bioethics, and we encourage students to shape their non-core curriculum according to their individual interests and needs.
The optional modules can be grouped around five concentrations or career streams:
1) Research Ethics / Clinical Ethics
2) Genetics & Reproduction
3) Health Policy & Public Health
4) Neuroscience & Mental Health
5) Global Trends
For more information on the career streams see here.
Who is the programme for?
The programme is ideal for health professionals, graduates of a relevant discipline, policy makers and shapers, and those wishing to develop a more rigorous understanding of ethical and societal issues in biomedicine, neuroscience, and health policy today. Our degree lays the foundation for future careers; for example, in government, national and international NGOs, teaching, or research in bioethics or social sciences. The programme can also enhance existing careers in clinical practice, biomedical research, public health, and health policy. 
For any queries, contact the Admissions' Tutor, Dr Silvia Camporesi: 

This email address is being protected from spambots. You need JavaScript enabled to view it.